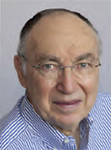 This is about what may be the last remaining mystery of the saga of the Dead Sea Scrolls: One of the critical breakthroughs that freed the Dead Sea Scrolls from the small publication team that had been assigned to publish them and failed to do so in 40 years was BAR's 1991 two-volume publication of thousands of photographs of still-secret scroll fragments from Qumran Cave 4.
Where did these photographs come from? We got them from Professor Robert H. Eisenman of California State University, Long Beach. But where did he get them? He and Professor James M. Robinson, as they stated in their "Introduction," were only "enlisted" to "implement the right of the academic community to obtain access to this important material without further delay."1 They did not disclose the source of the thousands of Dead Sea Scroll pictures we published.
I think I now know where they got them. But my answer only adds to the mystery. I have often asked Eisenman (who brought Robinson into the project) where the pictures came from, but he has steadfastly declined to tell me. I had always thought they came from a source in the Israeli government.

---
Interested in the history and meaning of the Dead Sea Scrolls? In this free eBook, learn what the Dead Sea Scrolls are and why are they important. Find out what they tell us about the Bible, Christianity and Judaism when you download our free
Dead Sea Scrolls
eBook.
---
Some recent correspondence with a California lawyer, William Cox, proved me wrong. Eisenman did not get them from a source in the Israeli government.
Cox had appeared at the trial in which BAR (or rather its parent, the Biblical Archaeology Society) was charged with copyright infringement by Israeli scholar Elisha Qimron for including in my foreword to our two-volume publication of scroll fragments a Hebrew copy of a text that Qimron claimed to have reconstructed. (We lost the case, but subsequent evidence showed that Qimron in fact had very little to do with the reconstruction.a)
I always assumed that Cox somehow represented Eisenman; that is, that he was Eisenman's lawyer. But in recent correspondence, Cox told me that Eisenman was never his client.
Cox's letter goes on: "The more interesting question is, where did I get the pictures?"
So we now know that Eisenman got the pictures from Cox, not from some Israeli source.
But where did Cox get them? That was—"and remains," he wrote me—a matter of lawyer's privilege. That is, communications between lawyer and client are privileged, so clients can talk freely to their attorneys without fear of their disclosing what the client said. No one can force a lawyer to divulge what his client has told him.
So, at least for now, William Cox, an old man who has written an as-yet-unpublished book of philosophical peregrinations titled The Book of Mankind, intends to take his privileged secret to the grave.
---
Visit the BAS Dead Sea Scrolls page for dozens of additional posts on this priceless collection of ancient manuscripts.
---
Notes
a. See "Giving Credit Where Credit Is Due—New Study Shows That John Strugnell Substantially Reconstructed and Deciphered MMT," BAR 27:02; "Qimron Threatens to Sue Garcia Martinez for Character Defamation," BAR 29:01.
1. A Facsimile Edition of the Dead Sea Scrolls, vol. 1, Prepared with an Introduction and Index by Robert H. Eisenman and James M. Robinson (Washington, DC: Biblical Archaeology Society, 1991), p. xi.
Permalink: https://www.biblicalarchaeology.org/daily/biblical-artifacts/dead-sea-scrolls/dead-sea-scroll-mystery/