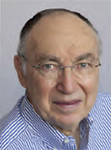 This issue marks BAR's 40th birthday. The first issue is dated March 1975.
Over the years we've celebrated in various ways—even a little raucously. See, for example, our 200th-issue celebration (July/August/September/October 2009) or our 35th-birthday issue (March/April 2011). Forty, however, seems generational, more contemplative—more Biblical, if you will, more an occasion for reflection than for tooting our horn.
Forty, of course, is especially significant in the Bible. Isaac was 40 when he married Rebekah (Genesis 25:20). Israel wandered in the desert 40 years before reaching the Promised Land (Numbers 32:13). Caleb was 40 when Moses sent him to spy out the land (Joshua 14:7). Eli judged Israel for 40 years (1 Samuel 4:18).
David reigned 40 years (2 Samuel 5:4; 1 Kings 2:11).
Solomon reigned 40 years (1 Kings 11:42).
And BAR has now reigned for 40 years.
To observe the occasion, in this issue we publish an interview with Eric and Carol Meyers in which we ruminate on how the field has changed in the past 40 years. In addition, we've asked 40 different scholars to try to divine the future: What are likely to be the major developments in the field in the next 40 years? We will shortly publish the results.

---
For more on BAR's 40th birthday, check out the "Celebrate 40 Years of BAR" page >>
---
In this First Person, I reminisce a bit about
the first issue of BAR
.
First, the name: That was not it. Initially I was going to call it Biblical Archaeology Newsletter. I was not so bold as to think it could be a magazine. I mentioned this to my friend Carol Meyers (who was recently referred to in a review of her latest book as the "undisputed doyenne of gender studies of Biblical Israel"1). Carol suggested a better name: Biblical Archaeology Review. The moniker BAR would be especially appropriate because I was then a practicing lawyer. And in any event, it would be a better acronym than BAN.a
I asked Barbara Levine, a graphic designer and the wife of a colleague at the bar, to design the cover according to my instructions. (I add the last phrase so Barbara cannot be blamed for it.) I don't think I've ever before explained what I had in mind: The two "tablets" on the cover, enclosing the beginning of two different articles, were intended to suggest the two tablets of the law. They support the stone with our logo, which, in its shape, was supposed to suggest the famous Siloam inscription that commemorates the completion of Hezekiah's tunnel in Jerusalem and that can be credited with saving Jerusalem from Sennacherib's siege in the late eighth century B.C.E.b
The 7-by-10-inch production was all of 16 pages, printed with brown ink on tan paper with one black-and-white picture—or perhaps I should say one brown-and-tan picture, featuring the four-horned altar from Beer-Sheba.
I confess to taking some satisfaction in my statement of principles in that first issue, in an editorial titled "Introducing the BAR":
"The aim of the Biblical Archaeology Review is to make available in understandable language the current insights of professional archaeology as they relate to the Bible. No other publication is presently devoted to this task …
"We also have a commitment to be interesting. That means we will focus primarily on the new, the unusual and the controversial. And there is much in archaeology that is all three—new, unusual and controversial.
"And we have a commitment to independence. We shall call the shots as we see them. To use a current metaphor, we will not tilt toward our friends or against those who may not like us …
"We hope that you will both enjoy and learn from the Biblical Archaeology Review. As the seasons pass [BAR was initially a quarterly], one by one, we hope that you will look forward to our next issue."
That was the beginning. And it still holds true.

---
"First Person: BAR's 40th Birthday"
by Hershel Shanks was originally published in the March/April 2015 issue of
Biblical Archaeology Review
.
---
Notes:
1. Aren Maeir, Review of Rediscovering Eve, Review of Biblical Literature 09 (2014) (www.bookreviews.org/pdf/8796_9684.pdf).
a. For more, see "How BAR Was Born," BAR, July/August September/October 2009.
b. See Hershel Shanks, "Will King Hezekiah Be Dislodged from His Tunnel?" BAR, September/October 2013.

---
Our free eBook
Ten Top Biblical Archaeology Discoveries
brings together the exciting worlds of archaeology and the Bible! Learn the fascinating insights gained from artifacts and ruins, like the Pool of Siloam in Jerusalem, where the Gospel of John says Jesus miraculously restored the sight of the blind man, and the Tel Dan inscription—the first historical evidence of King David outside the Bible.
---
Permalink: https://www.biblicalarchaeology.org/daily/archaeology-today/biblical-archaeology-topics/first-person-bars-40th-birthday/